Ubongo campaign at Pwani University
Ubongo awareness was started at the University of Nairobi in 2005 by a core of medical students under the leadership of Prof Jameela HassanAli. Prof Hassanali has co-ordinated this event since then. Each year, the Ubongo brain awareness campaign organises a brain awareness week of events for high school students in Kenya. The aim being to raise awareness on the brain and how it functions and discuss career options in this field.
This year's Ubongo awareness campaign was held at Pwani University on 17-18th October. A total of 28 students from three high schools: Ribe Girls, Kombeni and Majaoni secondary schools, attended.
The sessions were started off by soon-to-be 5th year medical students from the University of Nairobi who talked about the biology of the spinal cord and brain. The high school students were attentive to all those things that I always found a bit much when it came to learning about the nervous system: sympathetic and parasympathetic, autonomic and somatic nervous system. Later, they also discussed substance abuse and its impact on the brain.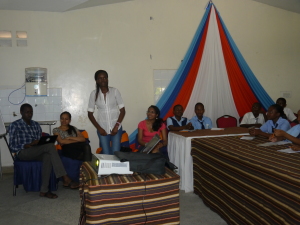 Prof Nilesh Patel who is a lecturer at the University of Nairobi gave a stimulating talk using videos of scientists performing simple experiments using Capuchin monkeys to understand how the brain works.
He talked about the strength of making mistakes in learning. He pointed out to the students that the greatest learning happens where interest and passion is strong.
'Experiences that illicit strong emotions are not easy to forget and so making mistakes, which stirs strong emotions, means, the lesson learned is never forgotten,' Prof Patel said.
He encouraged the students to ask questions and be keen to follow their passion.
Lastly Dr Hooker, clinical neurologist from the Aga Khan Hospital talked about career options open in the field.
'Kenya, has I neurosurgeon for 4 million people', Dr hooker said.
Although the picture looks grim, he pointed at opportunities for training in this area that are opening up as more and more doctors are soon to be churned from the many medical schools that are operating compared to a time when Kenya had only two medical schools.
The students were then divided into groups and were able to have a look at animal brains and see all the parts that they had been talking about. Prof HassanAli showed them scans of human brains and answered questions from the students. Dr Hussein was at hand to show them how the reflexes work.
One would not fail to be impressed by the team from Nairobi, who paid for their own travel and keep in Kilifi. So passionate are they about the campaign. Although the event was low on fan-fare, it was obvious that it had an impact on the students who were asking questions and wanting to follow through on issues with the visitors.