Royal Society Pfizer award for Salmonella research
The say a great prophet is never recognised in his home….that can be said of all great people. A Kenyan scientist won the most prestigious science award on the continent in 2012 and he did not make even the middle pages of our leading newspapers. A friendly editor tried hard to market this piece but somehow it did not get far…… a shame really.
Dr Sam Kariuki is actually one of the people who inspired me to pursue post-graduate studies after my first degree- he was pursuing his MSc while I was an undergraduate. They say vets make great research scientists (of course I am biased here) – let Sam's story do the talking though!
The Royal Society Pfizer award is the most prestigious prize for science in Africa, celebrating accomplished researchers working on the continent. In 2012, the award went to a Kenyan scientist, Dr Samuel Kariuki, Chief Research officer and Head of the Centre for Microbiology Research at the Kenya Medical Research Institute (KEMRI). Dr Kariuki received his award on 31st October 2012 at a ceremony that paid tribute to the contribution he has made in the area of Salmonella research in the region.
Scientific dogma stated that all non-typhoid Salmonella bacteria were spread to humans from animals either through contact with infected animals or their food products. Dr Kariuki and his team hypothesised early in his research that there was something intrinsically different about the Salmonella bacteria found in local animals and those sampled from patients that were ill as a result of blood stream invasion with non-typhi Salmonella bacteria. This hinted at the probability that these bacteria may not have spread from animals to humans. Through a decade and a half of research, Dr Kariuki painstakingly solved one piece of the puzzle at a time to prove his theory.
Early in his research career, using samples from Nairobi and Kilifi collected from patients and animals in their homes, Dr Kariuki was also able to show that drug resistance patterns in Salmonella bacteria from the human samples were very different from those in the animals. Later, he was able to show that the bacteria from humans had acquired traits that made them capable of causing severe illness, these traits, known as virulence factors, were completely different to those found in animal bacteria. If the bacteria were spreading from animals to humans, the two groups of bacteria would have had the same drug resistance patterns and virulence factors but clearly, that was not the case. It was then that Dr Kariuki hypothesised that perhaps the bacteria from humans were a completely different population to that found in animals and that they had a different transmission pattern as well. These findings were treated with great scepticism by the scientific community.
However, through further studies that he conducted 5 years later, in collaboration with the Sanger Institute, Cambridge, UK, using whole genome sequence technology, his hypothesis was proved true. It was clear that the non-typhi Salmonella bacteria that invaded the blood stream to cause severe disease, had over time undergone mutations by shedding part of their genetic make-up (at least 46 genes and gene types). These bacteria were gradually going through the same process that had made Salmonella typhi adapted to causing disease through invading the blood stream. This unique strain type is now given the name Salmonella typhimurium sequence type 313.
Dr Kariuki is now an internationally recognised authority in his field. His findings have also attracted the interest of Novartis Vaccine Global Health Institute in Siena, Italy, which, through EU funding, is planning an initiative to develop a vaccine to target this disease.
Dr Kariuki, the 48 year old unassuming father of three boys was born in little known Londiani town in Kericho county. He attended Mau Summit Primary School before joining Njoro High school. His interest in science was stirred at the age of 14 when he encountered the first university student from his village, who was studying medicine at the University of Nairobi.
'He seemed to really enjoy life in the University. He would come home and talk to us about 'boom' and the good life at the campus. We gained a lot from his mentorship and it was through listening to him that I decided I would take on science subjects for my 'A' level and that I would do medical research after university,' said Dr Kariuki.
Dr Kariuki graduated from the University of Nairobi with a degree in Veterinary Medicine in 1989. Due to his outstanding academic performance, he was offered teaching positions at the University which he turned down and instead accepted a scholarship with the Norwegian Aid Agency, NORAD, to pursue a MSc degree in Pharmacology and Toxicology at the University of Nairobi. It was a sandwich program that involved spending some time at the University of Oslo, Norway.
For his MSc, Dr Kariuki studied resistant genes found in Salmonella bacteria that were isolated from blood and diarrheal cases from cattle and children admitted at the Kenyatta National Hospital.
After completing his MSc in 1991, Dr Kariuki was keen to continue conducting research and soon found a job as a research assistant in KEMRI, working in a team lead by Dr Charles Gilks from the Oxford University. At the same time he was starting his new project, Dr Kariuki married Triza Mungai, who was then pursuing an MSc degree in plant pathology at the University of Nairobi.
At the end of the project, Dr Gilks returned to a new post at the Liverpool School of Tropical Medicine and within months had found Dr Kariuki a suitable PhD studentship that his former research assistant had requested.
Dr Kariuki did his PhD in Tropical Medicine at the University of Liverpool, graduating in 1997. His project looked at bacteria that are transmitted from animals to humans with special emphasis on Salmonella bacteria that cause severe disease in individuals whose immunity is suppressed.
At the end of his PhD, Dr Kariuki was keen to continue working abroad, a few of his friends were already doing post-doctoral work in the USA and he was tempted to think of taking his family to live and work there. However, his mentor Professor Tony Hart discouraged him.
'Prof Hart asked me to consider some of his PhD students who had chosen to remain abroad. They were employed as post-doctoral scientists and kept moving from one project to another doing menial work. There was no clear career plan for them and most of them were frustrated. Prof Hart asked me to reconsider and instead apply for a Wellcome Trust re-entry grant to return home and continue with my research. It was the best advice I ever got,' Dr Kariuki said.
Research conducted using funding from the Wellcome Trust solidified Dr Kariuki's theory that these Salmonella bacteria were not spread from animals to humans but that they had adapted themselves and spread directly from human to human just like the typhoid causing bacteria. However, Dr Kariuki and his colleagues struggled to get the scientific findings published in reputable journals as most in the scientific community doubted their result. However with the help of his persistent mentor Prof Hart, the paper was published in 2006.
Soon, colleagues in Malawi were able to isolate these same bacteria which were also causing an illness with high mortality in children.
Together with collaborators at the Sanger Institute, Dr Kariuki formed an informal Pan-African consortium with colleagues from Malawi, Kenya, Nigeria, Mali, Tanzania, Mozambique and DR Congo to study these Salmonella bacteria disease in more Sub-Saharan countries. Again, the earlier findings that outbreaks of Salmonellosis in the region were unique were confirmed and validated.
'No one can ignore data from a reputable place like the Sanger Institute and that was when scientists finally agreed that the types of non-tyhpid Salmonella found in Africa was a different strain to that in the West. These strains, having lost part of their genome, has adapted for transmission directly from one human to the other, just like the typhoid causing Salmonella. It was no longer purely a zoonotic disease,' said Dr Kariuki, who is currently the first international fellow at the Sanger Institute.
Dr Kariuki and his colleagues in the consortium analysed samples that had been collected as way back as the 70's. Using genome sequencing and bioinformatics analyses, they were able to show that this Salmonella strains was likely to have originated from DR Congo and Malawi coinciding with the HIV epidemic and the emergence of antibiotic resistance. Over the last 30 years, this strain type has spread to other regions.
'The Pfizer award has made my group and I extremely proud of our work. To be recognised by one of the world's oldest science societies is such a great honour. It should serve as an encouragement to motivate young people to see that if you are determined and inquisitive enough, can contribute scientifically to science, not just at the local level but at the global level,' Dr Kariuki said.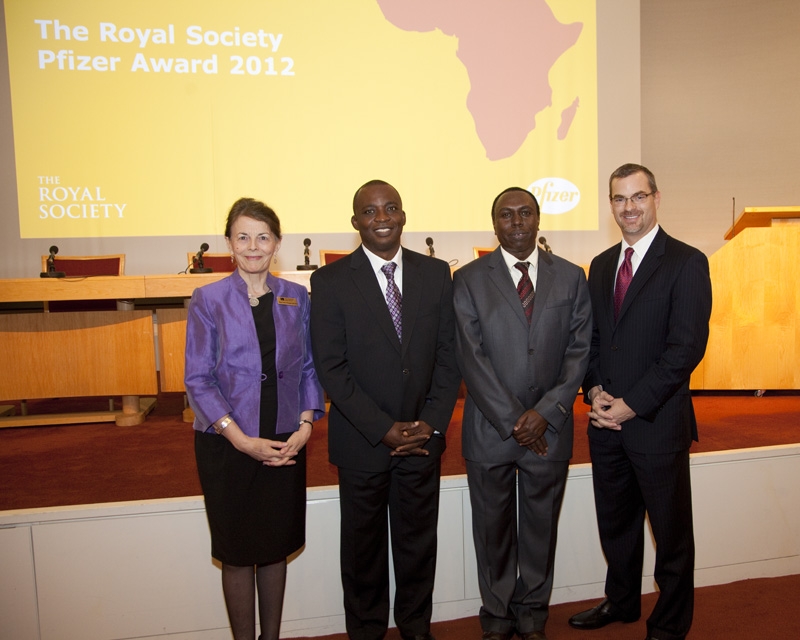 Dr Kariuki and his group will use the money from the award to continue with their current research program which is looking at the distribution and transmission patterns of these bacteria and mapping of hotspots in informal settlements in Nairobi, starting with Mukuru slums. This will help to identify areas that could be targeted for vaccine intervention.
The Royal Pfizer award is keen to uplift Africans delivering first class science who work and live within the continent because they believe that the answers to African challenges are to be found within Africa. Dr Kariuki believes things are slowly looking up for the Kenyan scientists even though the pace is slow.
'Things are not what they were 10 years ago, young Kenyans can apply locally through the National Council of Science and Technology among others to get funding for their own research. We have some way to go but we are headed in the right direction,' Dr Kariuki concludes.
Dr Kariuki continues to receive recognition away from home. In June 2013, the University of Oxfords Medical Sciences Board conferred the title of visiting Professor of tropical microbiology on Dr Kariuki.