Rabies – the neglected killer
I have a lasting memory of rabies – as a veterinary student at Kabete, many moons ago, we were once called out to the small animal clinic to see a dog in the 'furious' stage of rabies. I don't know how the owners managed to get the animal into a metal cage and put it unto the back of a pick-up, but there was the dog. It had attempted to bite the metal cage and had broken some of its teeth. It was snarling with blood oozing out of its mouth. It was a pretty scary sight and I could see where those werewolf- vampire movies came from, just looking at that dog.
I have never seen a case of rabies since but colleagues from my former life in veterinary medicine, reminded me about the case when they told me about the World Rabies Day that was marked on the 28th September. I wrote an article about it and interviewed a veterinary doctor who had recently attended to a rabid dog in Nairobi. Just in case you think rabies is a disease that is long ended in Kenya – have a read……
World rabies day is marked annually on the 28th September to raise awareness about rabies and enhance prevention and control worldwide. In Kenya, we don't hear much about rabies even though once infected, humans, livestock and other mammals eventually die of the disease. However, there is a reason why rabies remains a neglected, little heard about disease.
Most people who are exposed to rabies often do not report and make light of the dog bite incident. Because it may take 1 to 2 months before symptoms of rabies develop, most people often do not associate the disease with the dog bite. Early on, rabies symptoms include fever, muscle aches and confusion. These are often confused with other diseases like malaria and meningitis, resulting in a big underestimate of the number of rabies deaths.
However, this disease is not insignificant. It is estimated that 2,000 people die each year from rabies in Kenya. Death from rabies is an extremely excruciating experience and unfortunately most rabies cases are children below 15 years old.
The loss of 2,000 human lives each year from rabies is totally preventable as 98 percent of all human rabies is a result of dog bites. If every dog owner vaccinated their dogs, the disease would be eliminated as has happened in countries like Philippines, Mexico and Indonesia. However, should a dog bite occur, receiving early post-exposure injections would protect one from getting symptoms.
Rabies is a zoonotic disease, which is a group of diseases transmitted from animals to humans. Veterinarians in Kenya come across rabid dogs frequently during their line of work. Dr Samuel Apiyo who works at Cockar's Veterinary Clinic on Limuru road described a recent case.
About two months ago, a 14 month old German Shepherd dog was brought to the clinic. The dog's owner complained that the dog's behaviour had changed.
'Although the dog was on a chain-lead, she did not follow her master. She was running from one corner of the room to the other. She was drooling, snarling and did not want to be touched by anyone,' said Dr Apiyo.
The veterinarian drew a potential list of possibilities: either the dog had meningitis, was choking on something or was rabid. However, the dog had a scratch above her nose that was healing and a small wound at the top of her head, between her eyes. She had clearly been in a fight with another animal.
Due to the possibility of a rabies diagnosis, the veterinarian decided that the dog should stay in isolation at the clinic. The younger sister of the dog was also placed in isolation as the two were inseparable and the likelihood that the younger bitch may have been infected was high.
Dr Apiyo advised the dog's owner to have everyone in his compound receive post-exposure prophylaxis in case the dog was diagnosed with rabies.
About 3 days post-isolation, the older bitch worsened, she passed through the stage of growling and snarling, chewing the walls of the kennel. This is known as the 'furious' form of rabies. She then started lying down on one side and could not move well. The clinic would not let her suffer any further and she was euthanized. Her head was then taken to the veterinary labs were investigations showed that she had died from rabies.
However, her younger sister did not show any of the symptoms and after receiving her vaccinations, she was allowed back home.
Luckily none of the animals or humans had been bitten by the rabid dog, otherwise the story in Runda would have been different. Especially because the animals had not received regular anti-rabies vaccinations.
Dr Apiyo believes that a small rabid rodent or mongoose may have attacked the dog, hence the wounds on its face.
'Don't be too sure that if your dog does not leave the compound, it can't get rabies. Smaller animals may pass it on to the dogs,' said Dr Apiyo.
Dr Apiyo also advises that people watch their dogs for behaviour change.
'If your otherwise docile dog becomes aggressive or a normally happy dog begins to act apprehensive, do not take those behaviour changes lightly. Clients with dogs that end up diagnosed with rabies always start with the complaint that 'the dog is not acting itself'', said Dr Apiyo.
In Kenya, rabies has been ranked as one of the top 5 priority zoonotic disease with the goal of eliminating dog-associated human rabies in the country. For this reason, the Ministry of Agriculture, Livestock and Fisheries and Ministry of Health, through the Zoonotic Disease Unit has developed a Strategic Plan for the Elimination of Human Rabies in Kenya.
'The strategy aims at eliminating dog mediated human rabies in Kenya by the year 2030. The strategy provides a guide to systematic reduction of rabies risk through sustained mass dog vaccinations, pre and post-exposure prophylaxis and public education until the country is completely free of dog-mediated rabies,' said Dr Austine Bitek, veterinary epidemiologist at the Zoonotic Disease Unit.
In conjunction with the Kenya Veterinary Association, the Zoonotic Disease Unit carried out a series of activities in Makueni County that culminated in the launch of the Strategic Plan for Elimination of Human Rabies on 28th September 2014. The campaign was targeting to vaccinate at least three thousand dogs and cats against rabies and people found a way to make sure their dogs were vaccinated……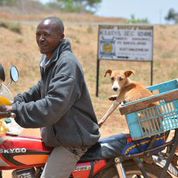 The campaign also aimed at educating around twenty thousand residents of the county on all aspects of the disease.The strategy provides for training of health workers and the public on rabies prevention.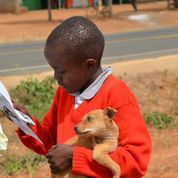 Low public awareness on what to do after a dog bite is a key challenge.
'Washing the wound with soap and water for at least 15 minutes dramatically decreases the chance of rabies infection, before accessing anti-rabies vaccines,' said Dr Bitek.
Additionally, the reporting system will be improved to capture all rabies cases and the number of laboratories that can test for rabies will be increased from the current three to nine serving all regions in Kenya.
The second main challenge is the lack of sufficient vaccine doses in public health facilities, and the high cost of vaccines from private facilities. Injections given after a dog bite cost over Ksh 10,000 for a full course of treatment. The third is the very low number of dogs vaccinated against rabies in the country. Rabies elimination in Kenya will be achieved through mass dog vaccinations. Research has shown that if every dog owner vaccinated their dog annually for at least 3 years, followed by a maintenance phase, rabies can be eliminated in the country.