POWER CORRUPTS with some help from testosterone
An article in July 2014 in the journal 'The Leadership Quarterly' caught my eye. It was written by Bendahan and colleagues from the University of Lausanne, Switzerland and is titled 'Leader corruption depends on power and testosterone'.
The paper starts by quoting Acton who suggested over 100 years ago that 'Power tends to corrupt and absolute power corrupts absolutely'. However it has also been said that it those who are 'corrupt at heart' that seek power. It is therefore difficult to go out and look at a crop of leaders and say that it is power that has corrupted them, after all, the two are likely interlinked.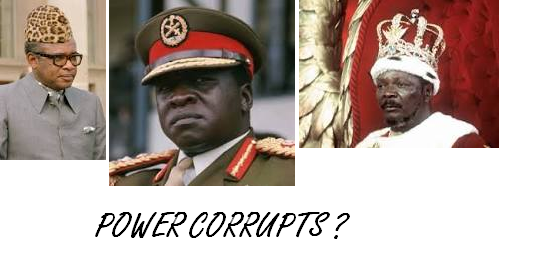 Bendahan and colleagues conducted experiments to determine whether power in itself is corrupting. If you can gloss over the maths in the paper, it's actually a really good read
Bendahan and colleagues used the standard definition of corruption as 'individual moral deterioration that results in an abuse of power for personal gain that contravenes social or moral norms' or 'misuse of authority for personal gain'. By misuse, they meant departure from accepted social norms.
Power is defined as 'having the discretion and the means to asymmetrically enforce one's will over others'
Bendahan used the assumptions that corruption stems from two sources: the social situation and personal factors.
The social situation that makes it easy for power to corrupt is when a leader has many options available to them and many followers or subordinates. These are factors of power that engenders within a leader 'a sense of entitlement, emotional disengagement and self-interest.' The more power a person has in terms of very many followers and the ability to make sweeping decisions, the more corrupt.
I pulled this from the paper and put it in capital and bold because it so encompasses many of our leaders.
THE POWERFUL SEE THE LESS POWERFUL AS LESS WORTHY. EVIDENCE ALSO SUGGESTS THAT THE POWERFUL MAY EVEN BECOME MORE PREJUDICED – THEY TEND TO STEREOTYPE THE LESS POWERFUL. THE POWERFUL TEND TO BE VERY SELF-CENTERED, THEY IGNORE THE ADVICE OF OTHERS. THOSE WHO ARE POWERFUL AR OVER-CONFIDENT AND MEN ARE MORE LIKELY TO SEXUALLY HARRASS. THE POWERFUL ARE MORE PRONE TO ENGAGING IN MORE SELF-SERVING BEHAVIOIUR AND FEEL IMMUNE TO SANCTIONS. ADDITIONALLY, THEY DISREGARD OTHERS AND SEE THEM AS A MEANS TO SATISFY ENDS.
I have seen quite a few people who were fun and enjoyable get into positions of power. Suddenly you are one of the 'minions' in their life. They openly despise old friends and only call on you if you are of some use. Then those lovely young men in college who become first class skirt-chasers once the tag 'CEO' or 'director' was attached to their name. It's almost laughable if it was not so sad. I bet you have come across that in your lifetime especially if you drank 'maziwa ya nyayo'.
This arrogance, this looking down on the 'masses' was easier to ignore at the national level but it's now in our faces. Take a look at our MCA's – these county assembly members. These are people who are close to the ground. They know exactly what ails the people: the lack of water, school fees, health workers. However, when they got into power, saw the amounts of monies in the books, they could not resist. The cry of the 'common ma'n they were to represent was forgotten and they now gorge more than anyone else. MCA's from very poor remote regions who spend hundreds of millions on foreign trips to 'bring development'.
http://www.nation.co.ke/news/County-leaders-burn-millions-in-joy-travels/-/1056/2163000/-/s4kqbo/-/index.html
http://www.nation.co.ke/oped/Editorial/Reduce-foreign-trips-to-free-up-counties-cash/-/440804/2163776/-/gie1n0z/-/index.html
It's no wonder that Daily Nation newspaper cartoonist Gado, draws MCA's as rats and our MP's as pigs (Mpigs). This is Kenya – I could go on and one, BUT I digress, back to the article….
The personal aspect of corruption is that although power corrupts- there are some people who are more predisposed to corruption than others. In this experiment they used honesty and testosterone levels. The assumption was that people who are more honest are less likely to be corrupt when they become leaders than people who are least honest.  They also choose to measure testosterone because it is a hormone associated with antisocial and egocentric behaviour. The assumption then is that high testosterone individuals are poor at detecting thoughts and feeling of others in social interactions and so are less likely to feel the impact of the harm their decisions make on others.
How was the experiment conducted?
The experiment involved about 500 students at the business school in Swiss state university. 'Leaders' were randomly selected, meaning every student stood an equal chance of being a leader. 160 students were designated as leaders and they were assigned 2-4 followers depending on the study. They were unaware of who of the participants were their followers.
Before the main study, several mini-studies were conducted to provide background information:
Prisoners dilemma game was played to gauge selfishness levels of the 'leaders'
Testosterone measures were taken using saliva collected 6 times in order to take into account variations within an individual over time. The average of those 6 was used
Intelligence and personality factor tests were done:- honesty was one of the factors measured here among others
The 'leaders' were also asked what they would choose before hand and almost all choose the prosocial route where them money was distributed in a manner that would benefit everyone not just them.
The main experiment was the 'dictator game' where the 'leader' had power over a pot of money and had options on how to distribute it to his followers. 'Leaders' were given a sheet with the options available on how to distribute the pay offs- they were aware that the followers would be affected by the choices they made.
In one experiment, the 'leaders' were aware of the results of previous studies that showed the social loss that would be incurred by making an anti-social decision. More options were given to them on what to do with the money and more followers to – which equates to more power and the effect of this increase in power on corruption observed. The followers had no right on how the money would be distributed. A prosocial decision increased public wealth but an antisocial decision meant more wealth to the leader with much less going to the followers.
The findings:
Although all the leaders claimed the pro-social route at the start of the study, during the study 50% of the low-power leaders remained true to their values while only 20% of the high power leaders remained true to their values. The researchers concluded that the more powerful a leader is, the more corrupt they are. Honesty did  not protect from corruption. Despite some 'leaders' being honest, they were still as corrupt as their less honest counterparts. The more of the male sex hormone, testosterone, that the 'leader' had, the more prone to corruption they were. The table below copied from the paper illustrates the point well.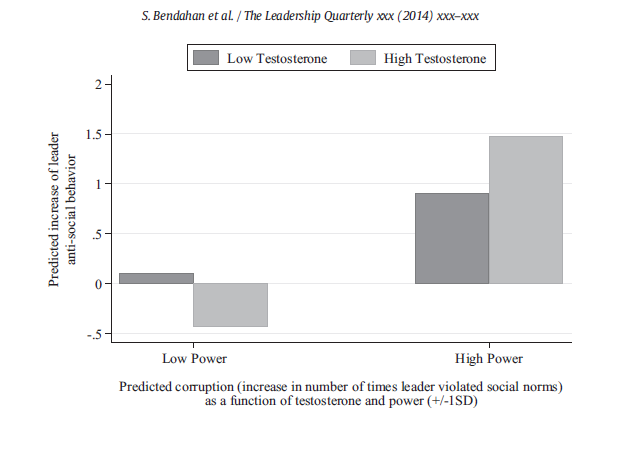 Science is speaking, the world needs more women in power……
But I digress, back to the study…..
The study suggests that the very factors that cause people to emerge as leaders are the same ones that contribute to corruption once in office. These include that high testosterone which enables people to take risks, others are extraversion and openness.
'Institutions might need to walk a fine line in balancing leader individual differences that are required to 'rally the troops' with governance mechanisms that keep the 'fox out of the henhouse,' says Bendahan.
The paper concludes that Acton was right, corruption depends on power HOWEVER, it also depends on the person. Again suggesting that those with a tendency to be corrupt are drawn to power.
Bendahan and colleagues conclude by stating that 'Our results suggest that organizations should limit how much leaders can drink from the seductive chalice of power'
In Kenya, people have complained about the manner in which Presidential powers have been reduced, this is slowing a lot of things in government at the moment. However, it is having such systems in place that clip corruption in high places.
At the county level, Governors do not to account for how they spend their money- instead they want more! Anyone asking to know how Governors spend money is declared anti-devolution. Strong systems need to be put in place to stem corruption at the county level as they are needed at the national level. If Governors are not held accountable, we are creating those conditions of too many options with many followers which has resulted in the corruption we are seeing.
Corruption in high places is not unique to Kenya- while this paper does not offer solutions, it puts in colour what we already know. Power corrupts and we love to choose the corrupt – they are charismatic, they bouy us and then despise us when they get the power they crave. However, even when we choose the less corrupt, they let us down.
Someone who asked a friend why he no longer spoke for the masses once he got into a seat of power quipped – 'It is not good manners to talk when you are eating'. When it's your turn to eat – you eat.