Depression in women: the impact of childbirth.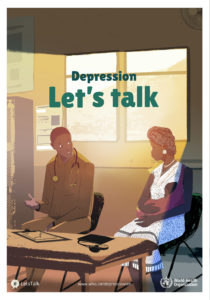 A recent WHO report shows that, across the world, there are more women diagnosed with depression than men.
Of course the figures are best guess estimates from data that is available – but it is something to go by.
The report says globally, African women have the highest rate of depression, standing at 5.9%. This tells us that about 6 out of every 100 women in Africa is suffering from depression.
In Kenya, the report says that about 1.9 million people have some form of depressive disorder. This accounts for 4.4% of the population. It may appear a bit large, but I found from looking at research conducted by Kenyan scientists that the rate of depression is high….
Although I have always wanted to believe that everything a man can do a woman can do even better, I know that life knocks women a lot harder than it does men. On top of facing the same life issues that men deal with, women also have to adjust to motherhood. Depression soon after the birth of a new baby is known as postpartum depression. Feeling depressed while holding your 'bundle of joy' seems at odds with itself. But it is the reality of many women.
Postpartum depression is one of the leading depressive disorders in women. This is when, just after the delivery, a woman experiences protracted low mood that develops into severe depression. Symptoms of postpartum depression are similar to clinical depression: feelings of sadness and low mood, lack of enjoyment or interest in the world, feeling tired, trouble sleeping, difficulty bonding with the baby, withdrawing from other people and frightening thoughts about hurting your baby.
Postpartam depression is not something that is discussed much in our society yet studies show that it is common. Researchers tell us that 1 in every 10 women who give birth, suffer some form of post-partum depression.
In a study conducted in the Kariobangi area of Nairobi, Beatrice Madeghe and colleagues from the University of Nairobi, found that 13% of mothers bringing their infants for vaccination at the MCH clinic, were suffering from post-partum depression.
Study on postpartum depression in Nairobi
In this Kariobangi study, mothers who had post-partum depression were found to be less likely to exclusively breastfeed their babies. As a result, they had more underweight babies. Children who were underweight as babies have health and education problems later in life.
I shall continue talking about postpartum depression next week.