A different look at HIV transmission
Did you see the DN2 cover story in yesterday's (5th August 2014) Daily Nation ? It was about the risk of HIV spreading from the homosexual to heterosexual world by bisexuals. The three men interviewed (Elly, Otieno and Evans) have sex with men to make money while having a girlfriend on the side.
http://mobile.nation.co.ke/lifestyle/Bisexuality-gay-HIV-Aids-Jennifer-Wambua/-/1950774/2408034/-/format/xhtml/-/hy1jpu/-/index.html
In the western world, HIV-1 transmission networks among Men who have Sex with Men (MSM) rarely include women and scientists have been interested in finding out whether this was the case in Africa.
Such work was published this year in the journal AIDS research and human retroviruses by Daniela Bezemer of the HIV monitoring foundation in the Netherlands.
The study results are rather contrary to what the DN2 article had to say – and I quote
'Despite the high percentage of MSM reporting bisexual behaviour, the transmission networks among MSM in our study population mainly involved other MSM both in coastal Kenya and Nairobi, with significant transmission detected between both geographic locations'
The scientists caution extrapolation of these results to the general population as the MSM groups were more densely sampled and the timing of the study was such that some things may have been missed in the comparison group.
The results of the paper however suggest that there is little intermingling of MSM and heterosexual HIV-1 in Kenya, not as would have been expected as over 80% of the MSM claimed to also have sex with women.
However, whatever one's sexual orientation, a sizeable proportion of HIV-1 transmission is brought about by people with acute HIV infection – people who have only been very recently infected.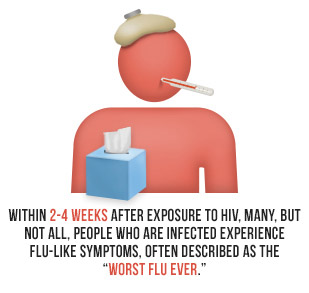 Did you know that about 2 weeks after the HIV-1 virus gets into the body, most people develop an illness severe enough to cause them to seek medical care. The symptoms: fever, joint pains, headache, fatigue, rash, sore throat – often are so similar to malaria, that most patients get treated for malaria and send home. At this point, the viral load is at its peak yet the usual HIV tests would be negative as the body has not yet started to produce antibodies BUT this is a stage in the disease where newly infected people are highly contagious. This group would however leave the hospital still feeling 'safe' to have unprotected sex.
It is estimated that 40 % of all HIV-1 transmission is attributable to sexual contact with this group of people that have what is known as acute HIV infection. Those with acute HIV infection have higher viral loads than those who have been infected for years and sexual contact with them has a higher likelihood of infection transmission.
I just read a paper by Dr Ed Sanders of KEMRI-Kilifi which has a title that is self-explanatory 'Most adults seek urgent healthcare when acquiringHIV-1 and are frequently treated for malaria in coastal Kenya' and was published in the journal AIDS in 2011.
In the West, most of those with acute HIV infections seek medical care. Dr Sanders and his colleagues wanted to find out whether the same happens in Kenya. In Kenya, do patients with acute HIV seek health care? Would this be a point of risk reduction counselling to reduce transmission or are those who seek care so few that it would not be worth trying?
Data from 72 volunteers who enrolled into the study while HIV negative in 2005 and had sero-converted by 2010 were examined. These volunteers were 12 female commercial sex workers and 60 men who had sex with men (MSM). Some of these men were also involved in transactional sex.
Just before they sero-converted, 54 (75%) of the volunteers had an illness with a high fever, of these 50 were ill enough to seek medical care. Of these 50, 29 were treated for malaria – even for those who tested negative for the malaria parasites. When viral loads were compared among those who felt unwell enough to seek healthcare and the others, it was found that those who sought health care had higher viral loads compared to the others.
Dr Sanders and colleagues also found that most of those who were very sick were men and they had very high viral loads. The scientists suggest that it is likely that these men were infected by men who were also in the acute stage of the disease and therefore had very high viral loads themselves hence their more serious illness.
Dr Sanders and his colleagues believe that risk reduction counselling should be offered to at risk groups when they present with fevers during the course of clinic visits.
They came up with a list of symptoms that would help identify this high risk group which was evaluated by the group.
Elizabeth Wahome, a researcher in Dr Sanders group wrote a paper in the same AIDS journal in 2013 titled Evaluation of an empiric risk screening score to identify acute and early HIV-1 infection among MSM in Coastal Kenya.
Once you get used to the many acronyms in the paper, it has a simple message – that using a list of symptoms, a health care worker is able to identify a good number of people with Acute and early HIV-1 infections. The list includes: fever, diarrhea, fatigue, any STD and a discordant HIV test among people younger than 30 years.
So a young person, with a fever, diarrhoea, fatigue, an STD and a discordant HIV test needs to be given prevention therapy as well as risk reduction counselling in order to reduce their ability to transmit the virus.
I would be interested to know how this will work in practise.