'Healers' and chronic illness: a childhood experience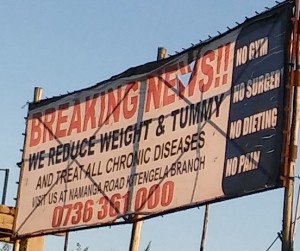 This sign post is common in the Kitengela area. This 'doctor' can get rid of the tummy fat but also 'treat all chronic diseases'. Some of these 'doctors' use herbs, others are 'faith healers' who pray and 'break curses' and therefore get rid of impotence, fertility problems, money and relationship problems. These advertisements of miracle cures are everywhere in Kenya; on electricity poles, newspapers, posters everywhere. These 'healers' prey on situations where the medical profession have not come up with a solution that provides total recovery. Chronic illnesses like hypertension, diabetes, HIV and mental illnesses are prime money makers for this group of 'healers'.
Carol, who was diagnosed with type 1 diabetes was exposed to a lot of these 'doctors' and faith healers. I mentioned this only briefly in the article published in the DN2
http://www.nation.co.ke/lifestyle/DN2/Many-parents-unaware-that-their-children-have-this-condition-/-/957860/3138968/-/tw9w02/-/index.html
It is not hard to understand why her parents took her to the faith healers. A child who was otherwise fine suddenly needs to inject themselves on a daily basis because the body has killed insulin producing cells – it's something hard to explain. Even scientists do not know what causes the immune system of a child to attack itself. So the belief that someone placed a curse on a child, spoke some bad words, bewitched them – and that something can actually be done to cure the child, is alluring. If it works, it would mean the end of injections.
Like any family faced with a disease that is hard to explain, Carol's relatives pushed the idea of faith healers on her family – and clutching unto straws, they took it as far as they could – wanting only one thing, a recovery for their child. Here, Carol explains in her own words what it was like for her as a child being taken to various faith healers. The experience would sometimes be hilarious.
Our family friends often suggested various options like use of traditional medicine or Chinese medicine. My mother didn't take chances. She wanted me to get cured so she bought for me all sorts of traditional medicine. There was no option she never tried. It was very expensive but all she wanted was a cure for me. Some of the sellers of the traditional medicine would tell me to stop using insulin while taking the herbs. This was to enable them to spot any positive changes. No significant changes were observed and I often ended up sicker due to failure to administer insulin as was required.
Prayers were also held for me. I welcomed the prayers and did believe that God will one day heal me. However, at one point, some preachers (Jolejo, Joroho and Nomiya) started convincing my parents that I had been bewitched. They made various citations and even told us that that's why I was the only child with diabetes. They recommended cleansing. This is the point when ridiculous things started happening. It was drama after drama. I would go to their prayer venues where I would be required to carry various pieces of clothes, candles of assorted colours and some money for "thanksgiving".
I remember one instance where one woman started praying for me in a rhythmic tone then asked me to hold a red-lit candle. She asked me to kneel down and surrounded me with candles of different colours. Then she put some liquid in her mouth (I suspected it was kerosene) and blew it over another candle which she was holding facing the door. Some huge fire was produced over the candle then she screamed in different tones saying "Abram, Jeso, joseph, Mariah, Michael". She then told me that it was the fire of Abraham burning the traps that the people who sent me diabetes had set for me. After that, she told me to get out of the hut then she started saying some prayers and swinging towards the door and within no time, something tied shoddily fell from the roof of the house with a lot of force and a loud thud. She told me those were the things my enemies had planted to destroy me. She then opened the wrapped things and in them were 2 one-shilling coins, hair strands, pieces of cloths and some bones. She poured kerosene on them and burnt them then told me to give her my thanksgiving and go home because I was healed. All this time, I felt like I was in some mysterious movie world. I left without looking back.
I had over 20 episodes of experiences with such kind of "men and women of God". Each time, they kept telling me that my faith was little and that's why I wasn't getting healed.
I tried to convince my parents to stop being brainwashed by these people but they often told me to take heart and not give up. They reminded me that no one ever knows where his/her help may eventually come from. One time my dad took me for a night prayer vigil in some village. Everyone was in white from head to toe. We were first offered some maize and tea, which I refused to take. My dad didn't take them as well. We were then taken into a prayer room where the faithful were playing drums and singing. On entering the room, they read the bible and someone preached for a few minutes. It was 10 pm and I was already thanking God that at least the church wasn't as dramatic as the rest since everything seemed sober and normal. Little did I know that the worst was yet to come.
After some short preaching, the church members made a circle around my dad and I. They then started singing, drumming and jumping around us. After a few minutes, they asked us to start jumping because apparently it was a way of chasing diabetic demons. 30 minutes later we were still jumping. We started staring at each other with dad and he whispered something to me, "hapa ni kubaya".
I almost burst out laughing. We were tired. We wanted to run away. I then told him to take heart and enjoy the moment. I asked him to look at it as an opportunity to exercise and do away with extra calories (my dad had a protruding stomach). At that moment, we started smiling at each other and jumping as if it was a game. We decided to play along. That was the longest night of our lives. We jumped and jumped until 3 am. Immediately we were given a short break, we literally begged for that maize and strong tea that we had refused to take earlier on. No sooner had we finished the tea, than we escaped through a small patch in the fence surrounding the homestead and left the faithful men and women of God waiting for us in the house.
My dad asked me to keep that escapade a secret (which I've now broken- Sorry dad!). He did not want mum and my siblings to laugh at us since he had previously ridiculed the other prayer men and women who our family friends and relatives recommended to my mum. He had also praised himself and told the family that he knew people who were going to pray for me without drama overnight. He thus didn't want the family to know that "his" people were worse than the usual ones.
After a few months, my late grandmother heard some announcements on radio about a man who was known to be curing chronic diseases like diabetes. She decided to take me there. She was hoping that I was going to get healed completely. When we arrived, the man massaged my legs with some anointing oil then gave me 5 raw eggs to swallow. I got surprised and I almost refused to take it. I eventually took it since I did not want to disappoint my grandmother. It was awful. After that we were told to go back home and rejoice because I had been cured. A few days later, my blood sugars had risen to 30. That man had succeeded in making a fool of us.
My worst experience with these prayer warriors was however when I was taken to one famous place in Kisumu called "Corner Legio" by a family friend. Here, the men of God were using rosaries with a lot of beads. They put me in a certain room. One woman then came in and asked me to remove my shirt (I hadn't matured physically yet). She then lit several candles and started praying. While praying, she asked me to kneel down and hold on to one candle. She then started pricking my body with the edge of the cross on her rosary. It was painful and whenever I complained she would say those were diabetic demons talking. I felt irritated. At that time my mothers' friend was not in that room. This woman then took a razor blade and made two line-scars underneath my breasts, at my back, on my thighs until I said no and screamed. Nobody came to rescue me. They all thought demons of diabetes were being removed. My main fear was contracting HIV or any other infections through that blade. I was bleeding. I was 12 years of age but I knew a few things about infections and how HIV is contracted. I knew I had to stand firm and refuse to be subjected to such people. When I went back home that day, I told my parents that enough was enough. I told them that I'd rather inject myself everyday and pray for myself than be subjected to such things in the name of prayer. That friend of ours tried telling my parents that I had just become tough headed but I said 'No' and even told her never to step in our house again. My parents were just there, staring.
After that nobody ever even tried to mention anything about me being taken for prayers again.
***
Carol is now a beautiful woman who has lived into her mid-20's, achieving many of her dreams. Regular daily insulin injections, good food, the firm support of her close knit family circle, prayers and friends – have got her there.

******************************************
Remember to vote healthkenya.co.ke as best health blog 2016
http://www.blogawards.co.ke/vote/
16. Best Health Blog
b. http://healthkenya.co.ke/